ESV OKAS WIKE
Member of the Board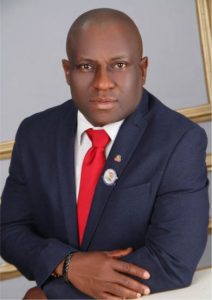 PROFESSIONAL AFFILIATIONS
Associate of Nigerian Institution of Estate Surveyors and Valuers (ANIVS)
Registered Surveyor and Valuer (RSV)
Fellow of Nigerian Institution of Estate Surveyors and Valuers (FNIVS)
PROFESSIONAL EXPERIENCE
Led Consultancy Services for the Valuation and management of Assets acquired by Asset management corporation of Nigeria (AMCON)
Led Consultancy service for Valuation of NNPC Fixed Assets (Zonal office complex, Port Harcourt Refinery land at Alesa/Okirika, New PH Refinery office, Eleme, Port Harcourt, Housing Complex & Camp Site at NNPC Petrochemical (Eleme).
Led consultancy for the Valuation of NNPC Plant and Machinery, Port Harcourt Refinery to determine its market value, replacement value, technical conditions and remaining life.
Valuation of Federal Government Landed properties in zone 12 for the implementation committee on white paper on commission for Enquiry into Alienation of Federal Government Land.
Led consultancy services for Assets Valuation management and sales for Access bank Plc collateral in various state of the country.
Led consultancy services for Valuation, management and sales of defunct bank properties in Port Harcourt for Nigerian Deposit Insurance Corporation (NDIC).
Led Consultancy services for Asset Valuation of Amalgamated Distillery Nigeria Limited for Fridmore Enterprises Ltd.
Led consultancy Services for Valuation of immovable Assets within concession areas of Apapa Wharf for Nigeria Ports Complex for Nigerian Ports Authority (NPA).
Led Consultancy for the management of Obio/Akpor international Market.
EDUCATION/QUALIFICATIONS
M. Phil (Environmental Management)
Rivers State University, Portharcourt.
2010
B. Tech (Estate Management)
Rivers State University, Portharcourt
1987 – 1990
Diploma (Town Planning)
Rivers State University, Portharcourt.
1984 – 1987
West African School Certificate (WASC)
Akpor Grammar School, Ozuoba
1977 – 1982
PROFESSIONAL TRAININGS ATTENDED
IRWA: 5th Annual Educational Conference, 7th June, 2018
IRWA: 5th Annual Education Conference (Improving Stakeholders Engagement in Right of Way Acquisition for Infrastructural Development), 24th May, 2019.
IFMA: IFMA FMP Credential program on Finance and Business. 6th June, 2015
IFMA: IFMA FMP Credential Program on Project Management, 6th June, 2015
IFMA: IFMA FMP Credential Program on Leadership and Strategy, 6th June, 2015
IFMA: IFMA FMP Credential Program on Operations and Maintenance, 6th June, 2015
NIESV: 5th National Housing Summit, 6th October, 2016.
MCPD: "Improving Real Estate Revenue Performance Through Appropriate Government Intervention", held in Imo State on 27th February, 2020.
MCPD: "The Role of Estate Surveyors and Valuers in Enhancing the Internally Generated Revenue of Bayelsa State through Property Rating and Taxation", held in Yenagoa on 8th November, 2018.
NIESV (FACULTY OF PLANT AND EQUIPMENT VALUATION): "International Conference on Mineral Assets Valutaion and Financing in Nigeria", Minna, Niger State on 6th to 9th November, 2018.
Special Control Unit against Money Laundering (SCUML): "Prevention of Money Laundering and Terrorist Financing Through Property Transaction", 6th December, 2017.
MCPD: "Exploring Modern Marketing Techniques for Real Estate Products and Services", Abuja, 16th October, 2014.
Compliance & Associated Training Center: "Anti-money Laundering/Counter Financing of Terrorism Compliance Training", 2017.
IRWA: Educational Seminar "Best Practices & Emerging Issues in Right of Way Acquisition and Compensation", held in Abuja on 19th October, 2016.
FIABCI: "Challenges of Planning Approval and its Effects on Housing Development in Nigeria" held at Golden Gates Restaurant, Ikoyi, Lagos State on April 29th, 2014.
FIABCI: "Property Taxation in Nigeria" held at Ikoyi, Lagos State on July 13, 2011.
PRRES: Pacific Rim Real Estate Society 15th Annual Conference in Sydney, Australia, 18-21 January, 2019.
POSITIONS HELD/JOB FUNCTIONS
Publicity Secretary, NIESV Rivers State Branch – 2005
NIESV Honorary National Assistant Publicity Secretary – 2006.
NIESV Honorary National Publicity Secretary – 2008.
Branch Chairman of the Rivers State NIESV Branch – 2010 – 2014
1st Vice President of NIESV – 2016 – 2018
2nd Vice President of NIESV – 2018 – 2020
President of NIESV – 2020 – till date.
Member of the Building Code Review Committee of the Rivers State Government.
Board Member of Greater Port Harcourt Development Authority, Rivers State.
contact details
Federal Ministry of Works (Glass House) Opposite TBS by High Court Onikan, Lagos.
Feedback form
If you'd like to book a consultation, please start by completing the form: